How long does each appointment last?
Each appointment will last approximately 50 mins – this is a 60 minute slot allowing 50 minutes of face to face time and 10 mins for any necessary notes, if applicable.
How much do you charge for your services?
Therapy sessions start from £40, depending on which therapist you require. This is based on their specialist fields, level of qualifications and years of experience. We do offer a sliding scale for clients who are in financial hardship, please contact us for details.
What is the difference between Psychotherapy and Counselling?
Counselling and Psychotherapy are often considered to be interchangeable therapies that overlap in a number of ways. Counselling, in specific situations, is offered as part of the psychotherapy process; whereas a counsellor may work with clients in a psychotherapeutic manner.
The key difference between the two courses of therapeutic communication treatment lies in the recommended time required to see benefits. Counselling usually refers to a brief treatment that centres around behaviour patterns. Psychotherapy focuses on working with clients for a longer-term and draws from insight into emotional problems and difficulties.
How can therapy help me?
A number of benefits are available from participating in therapy. Therapists can provide support, problem-solving skills, and enhanced coping strategies for issues such as depression, anxiety, relationship troubles, self-esteem, unresolved childhood issues, grief, stress management, body image issues and creative blocks. Many people also find that counsellors can be a tremendous asset to managing personal growth and forward planning. The benefits you obtain from therapy depend on how well you use the process and put into practice what you learn.
Do I really need therapy? I can usually handle my problems.
Everyone goes through challenging situations in life, and while you may have successfully navigated through other difficulties you've faced, there's nothing wrong with seeking out extra support when you need it. In fact, therapy is for people who have enough self-awareness to realise they need a helping hand, and that is something to be admired.
Why do people go to therapy and how do I know if it is right for me?
People have many different motivations for coming to Counselling and Psychotherapy. Some may be going through a major life transition (unemployment, divorce, new job, etc.), or are not handling stressful circumstances well. Some people need assistance managing a range of other issues such as low self-esteem, depression, anxiety, addictions, relationship problems, spiritual conflicts and creative blocks.
In short, people seeking counselling /psychotherapy are ready to meet the challenges in their lives and ready to make changes.
What is therapy like?
Because each person has different issues and goals for therapy, therapy will be different depending on the individual. In general, you can expect to discuss the current events happening in your life, your personal history relevant to your issue, and report progress (or any new insights gained) from the previous therapy session. Depending on your specific needs, therapy can be short-term, for a specific issue, or longer-term, to deal with more difficult patterns or your desire for more personal development. Either way, it is most common to schedule regular weekly sessions.
I'm not really sure what my problem is – does that matter?
No, not at all! Many people come to me with just a feeling that things are not quite right or because they feel unhappy or unfulfilled for no obvious reason. The counselling process will allow you to uncover and expose the underlying issues that are taking away from your happiness and contentment.
My problem is embarrassing or of a sexual nature – is that okay?
Of course! Almost all of us have at least one or two dark secrets or embarrassing aspects of our personality and in the therapeutic process you have the wonderful opportunity of dealing with them in an atmosphere where you will not only not be judged, but you will actively be supported in alleviating whatever discomfort they may cause you.
If I start therapy can I just quit any time I want to?
Yes, you are the one buying the counselling service so that makes you the person in charge and therefore you are completely free to quit any time you want!
What if we have a further question?
You can contact us by filling in the online contact form on the contact page you can also telephone or send us a text message on 07548080806. We also provide a free telephone consultation if required, this is prior to the first session and I can answer any questions you may have.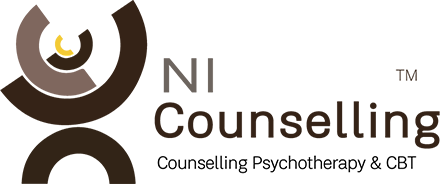 NI Counselling offers therapeutic assessments, treatment and therapy for adults, adolescents, children, couples and groups with a range of emotional and behavioural issues and concerns.
Address
34 Church Street
Antrim
BT41 4BA

Each of our therapist are accredited and have different specialist fields and backgrounds, we can help you find the right fit for you!
We have appointments available online and by telephone, we also have face-to-face appointments available at our various office locations across Northern Ireland - our head office is in Antrim town.
Counselling Northern Ireland