My son spoke to [therapist] when he was a teenager. He had issues I couldn't fully understand or help him with. He was self harming and it was becoming serious. Thanks to [therapist] he is not just well adjusted but she has helped him to become an achiever. Our family have moved on so much from [therapist] help that I had to look her name up again and write this review so others can choose with confidence and to eventually say "Thank you Deborah". As a parent I was scared to have a complete stranger have such an influence over our son, but her help couldn't be more real. We are in such a beautiful place. Wishing whoever needs her service the same. With her help your situation really can change!
Thank you for all your help and support, I really don't know what I would have done without it. Thank you for teaching me new techniques for dealing with my anxiety and for providing a safe and welcoming place for me to speak freely.
As a recent past client of [therapist], I can confidently preach how much she has helped me fight an eating disorder and re-gain my happy healthy self, both mentally and physically. Through sharing my story with her and learning about my disorder from the root I was able to instantly connect and develop a great relationship with the therapist. With her help I was able to learn individual recovery methods suited to me. She is a kind, caring and understanding therapist whom I couldn't recommend enough.
Without finding you I wouldn't have found myself. The help I got I cannot put into words……..you are a wonderful lady and I hope I have the pleasure of meeting more people like you in the future.
As a parent I couldn't recommend [Therapist] enough. Her ability to teach new techniques to deal with anxiety has helped us immensely, we will be forever thankful!
"I found my counsellor to be of great support and very professional. He was everything I thought a counsellor should be and helped me unravel my emotions and make sense out of things that didn't make sense before. I have to say I was slightly sceptical at first, my concerns where soon overcome. Please pass on my sincere thanks and appreciation to my counsellor for his time, understanding and patience. He has put me on the road to a brighter future"
'There is something very powerful about being fully heard, valued and respected. This is how I felt each week with [therapist]. He also helped me to understand my feelings, that I wasn't going crazy and that I could heal. I wish I had known the power of therapy when I was younger!….'
"Thank you for helping me through this extremely rich but confusing chapter in my life. You pointed out the good aspects of my personality and your feedback will follow me forever. I can't thank you enough for being part of my journey! The right time, the right place, the right therapist!"
"[therapist] was a true life saver. He was incredibly patient and non-judgemental about my thoughts, helping me navigate through the trauma, the fears and help me truly understand what I wanted.."
"From my first appointment I have been receiving outstanding, compassionate, and intelligent support from my counsellor. Eye-opening, life-changing and life-saving. Worth every penny!"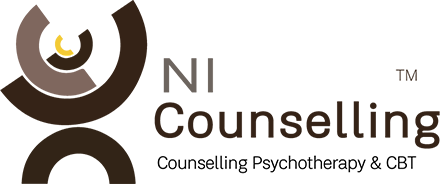 NI Counselling offers therapeutic assessments, treatment and therapy for adults, adolescents, children, couples and groups with a range of emotional and behavioural issues and concerns.
Address
34 Church Street
Antrim
BT41 4BA

Each of our therapist are accredited and have different specialist fields and backgrounds, we can help you find the right fit for you!
We have appointments available online and by telephone, we also have face-to-face appointments available at our various office locations across Northern Ireland - our head office is in Antrim town.
Counselling Belfast | Newcastle | Lisburn | Antrim | Newtownabbey | Magherafelt